We all experience pain in different ways depending on individual differences, arousal at the time and habituation to chronic pain.  Some good examples of this is recent research which has shown that doctors can actually 'turn off' parts of their brain which would react to seeing others in pain.
What is central to future research into pain and pain experience is that we're aware:
Although we typically associate pain with physical damage to the body, thinking only in terms of physical damage is counter-productive. We also need to tackle the psychology and neuroscience of pain both to fully understand it and to help people affected by it. [Mind Hacks]
Going even further we could even look at the sociological influences on pain perception.  Recent research reported in the May 2008 issue of The Lancet (via Providentia) has found some interesting factors that are associated with perception of pain (or it could be argued the ability to cope with pain).  Using a representative stratified sample of over 10,000 Americans were contacted (of which just shy of 4,000 responded) to inquire about their experience of pain or chronic (pain experienced for over three months) pain.
Those with lower income or less education spent a higher proportion of time in pain and reported higher average pain than did those with higher income or more education. The average pain rating increased with age, although it reached a plateau between the ages of about 45 years and 75 years, with little difference between men and women. Satisfaction with life or health and the pain indicators tended to move in opposite directions. [from Krueger & Stone, 2008 abstract]
This could be seen in two ways: are those on lower incomes experiencing more pain or are they just not as good as coping with it?  Also, it seems to suggest that we either become more sensitive to pain as we age or again we are less able to cope with pain as we age.  It seems that this research asks more questions that it answers but it raises some great questions.
Krueger and Stone used a 6-point likert scale to measure their participants perception of pain which raises more issues as to the reliability and validity of such simple rating scales for a complex thing as pain perception.  Maybe they should have used something more sophisticated like this example from Scrubs.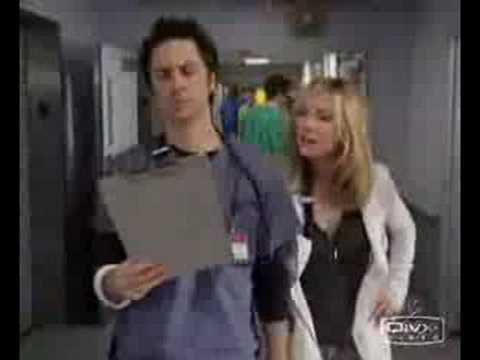 If you're still wanting more on pain then you could pop over to the How to Cope with Pain blog and read their May Pain Carnival where there's links to loads more great articles on pain, pain perception and current thinking in the area.